Winter preparation is an annual ritual for many rural Canadians, but some tasks may seem a little unusual for those new to the country.
Such was the case for South Africans, Rob Mathys, and his wife, Dr. Lynn Hanekom, when they immigrated to McLennan, two hours north of Grande Prairie nearly two years ago.
It didn't take long for the couple to learn from locals how important winter tires and a survival kit were to help them traverse the snow and ice that Old Man Winter can deliver.
"I had never even heard of winter tires—I only knew of one set of tires," said Mathys.
Furnaces were another household necessity they had never dealt with before, considering the temperature rarely dipped below 10C back home.
With two winters in the rear-view mirror and another soon to start, Mathys said they are finally starting to adapt to northern Alberta.
Winter wasn't the only challenge they encountered, however.
It took time to make arrangements to relocate from South Africa, and for Dr. Hanekom to be fully licensed to practise as a family physician in Canada.
Mathys credits community support in Falher and McLennan in helping make it happen and, in particular, the dedication of Myrna Lanctot, the coordinator of the Smoky River Regional Attraction and Retention Committee.
Lanctot was tasked with the part-time contract position after volunteering in the role for several years while mayor for the Village of Donnelly, one of the communities involved in the committee. The municipalities in the region, which include a population of about 4,500 residents, recognized the value of having continuity in the role since politicians potentially change every four election years.
As well as serving as a key contact for new and potential physicians, Lanctot arranges tours of area facilities, helicopter flyovers to see the landscape and size of the area served, and other attractions tailored to a prospective physicians' family.
She knew her past work successfully attracted physicians to the area. Yet Lanctot was surprised to hear how a timely email—checking in on Mathys and Dr. Hanekom's progress and an accompanying photo of a northern Alberta sunset—may have saved the couple from abandoning their plans.
"I didn't even know until [Rob] actually did the presentation [to local municipalities that] he and his wife were sitting in [South Africa because of paperwork] and thinking, 'Oh my … are we ever going to get through this? [We're] not sure if we should continue this process.'"
Around the same time, "[Rob] said he literally got a message from me and it kind of gave him that boost of 'oh, they are waiting for us, let's get this paperwork done.'"
Lanctot said she felt communication with the family throughout the process was vital, even if it was just a simple note saying, "Still thinking about you [and] can't wait till you arrive into our area."
Canada, Britain, and the United States were also under consideration, and other Canadian communities were also trying to woo the couple.
"It's also up to the spouse to avail themselves. The community can put out as [many] feelers and engage as much as they possibly can, but if a spouse isn't willing to meet them halfway, then it's always going to be an upward struggle." – Rob Mathys
However, it was that regular communication, a detailed community visit focusing on their personal and professional interests, and the fact that Lanctot was so willing to help guide them to Canada and settle them in when they arrived, that won them over.
"We knew that coming to a new country, having spoken to a couple of people [who] immigrated prior, that if you have someone in country to help you it makes the transition that little bit easier," said Mathys.
Having someone to go to discuss tasks such as setting up a bank account is much easier if you have someone to reach out to and ask questions, he explained.
After he and Lynn welcomed a baby daughter last month, Mathys is settling into his new role as father and embracing his new community.
He's grateful for the support the community has shown him and his wife, but said it's also important for his family to get to know the area and its people.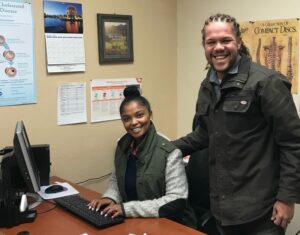 Dr. Hanekom's work at the Falher Medical Clinic and Sacred Heart Community Health Centre in McLennan had her meeting people throughout COVID-19, but for Mathys, the pandemic spelled a slower introduction to his new community.
Mathys is determined to make the most of his life in northern Alberta. The trained youth worker recently started a position as a wellness coach at an area elementary school and he has volunteered to coach some sports including volleyball, a sport he has never played.
He believes both physicians and their spouses need to feel comfortable both in their careers and the community.
It's not a one-way street though.
"It's also up to the spouse to avail themselves. The community can put out as [many] feelers and engage as much as they possibly can, but if a spouse isn't willing to meet them halfway, then it's always going to be an upward struggle," he said.
"For me, it was really important."