A new joint project from Alberta Health Services and the University of Alberta Faculty of Rehabilitation Medicine allows rural Albertans access to rehabilitation services from a centre close to home.
Tele-Rehab 2.0 connects a "hub" clinician, who is typically located in an urban hub location, with the "spoke" clinician and patient who are located in their local community. This virtual care delivery model offers real-time assessment and treatment for patients, as well as communication and mentorship for the local clinicians.
Currently, Tele-Rehab 2.0 focuses on four clinical areas:
Wheelchair and specialty seating
Vestibular and balance
Hip and knee replacement follow-up, and
Complex shoulder pain
Not only can the hub clinician see what is happening in the rural spoke location, thanks to specialized cameras they are able to measure how much force the patient is using during their rehab exercises.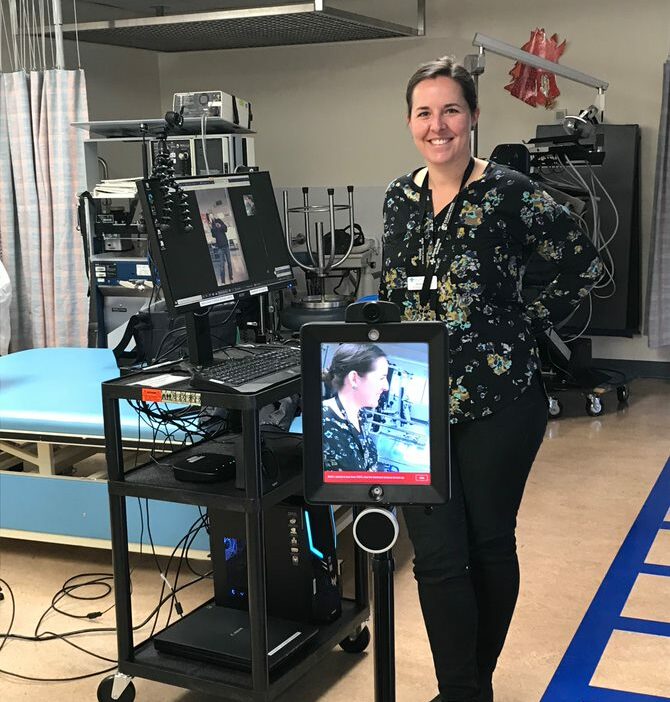 The current list of communities participating in the project includes Peace River, Fort McMurray, St. Paul, Jasper/Edson (wheelchair), Drayton Valley, Rocky Mountain House, Taber, Crowsnest Pass, Pincher Creek, High River, Milk River and Cold Lake (coming soon).
This approach provides many benefits, including reduction of travel for patients, support for spoke clinicians to advance their practice through coaching and mentoring, and the diffusion of clinical expertise across the province.
"[Tele-Rehab 2.0] is intended to connect people who have various chronic conditions who live in remote parts of Alberta and Northwest Territories…to access specialist rehabilitation services that are not available in the more rural parts of Alberta," explained Martin Ferguson-Pell, a biomedical engineer and professor at the University of Alberta Faculty of Rehabilitation Medicine who founded Tele-Rehab 2.0 in 2019. 
Physicians in rural Alberta are now able to refer patients to this program. Likewise, patients are able to request becoming part of the project on a voluntary basis.
For more information about this project visit www.telerehabilitationcollaboration.com.