Wabasca/Desmarais Healthcare Centre Nursing Team and Innisfail's Community Partners in Action to receive this year's RhPAP Rhapsody Health-care Heroes Award
A team of "incredible" northern Alberta nurses and a "remarkable" central Alberta-based Dementia Friendly Community Initiative have been selected as recipients of the 2021 RhPAP Rhapsody Health-care Heroes Awards. The Rhapsody Health-care Heroes Award recognizes rural Alberta health professionals and teams that demonstrate superior commitment to their patients, health-care team, and community.
Following a review of the outstanding candidates nominated this year, the RhPAP Board of Directors has endorsed two recipients for the 2021 Rhapsody Health-care Heroes Award.
Scroll or click the links above to read more about each recipient.
About the Rhapsody Awards:
The RhPAP Rhapsody Awards continue a long tradition of celebrating rural Alberta's health-care heroes and rural communities. Founded in 2002, the Rhapsody Awards are intended to recognize the individuals, teams, and communities that make significant civic and health-care contributions within rural Alberta. Nominations are evaluated by an Awards Selection Committee composed of a practising or recently retired rural Alberta-based physician, a member of an active rural community health professional attraction and retention committee, and one rural Alberta health professional, all from different zones. The selection committee provides recommendations to the RhPAP Board of Directors, who are responsible for endorsing the final recipients.
What's next?
RhPAP celebrates Rhapsody Award recipients with a recognition event in their home community. Celebrations include the Rhapsody Award presentation, a donation by RhPAP to a local non-profit organization on behalf of the recipient, and the debut of a video profiling the recipients and their contributions to the health and well-being of their communities. Details on the recognition event will be released as they become available.
---
Community Partners in Action, Innisfail
The Community Partners in Action Team in Innisfail was selected as a 2021 Health-care Heroes Award recipient based on the marvelous work they have done through their Dementia Friendly Community Initiative. The initiative offers varied programming for community members living with dementia, prepares first responders to better deal with dementia patients, and engages health professionals and the broader community in education sessions about how to recognize, interact with, and support those living with dementia. In response to the challenges presented by COVID-19, they have also been able to build project momentum through their virtual program, "Innisfail Connects."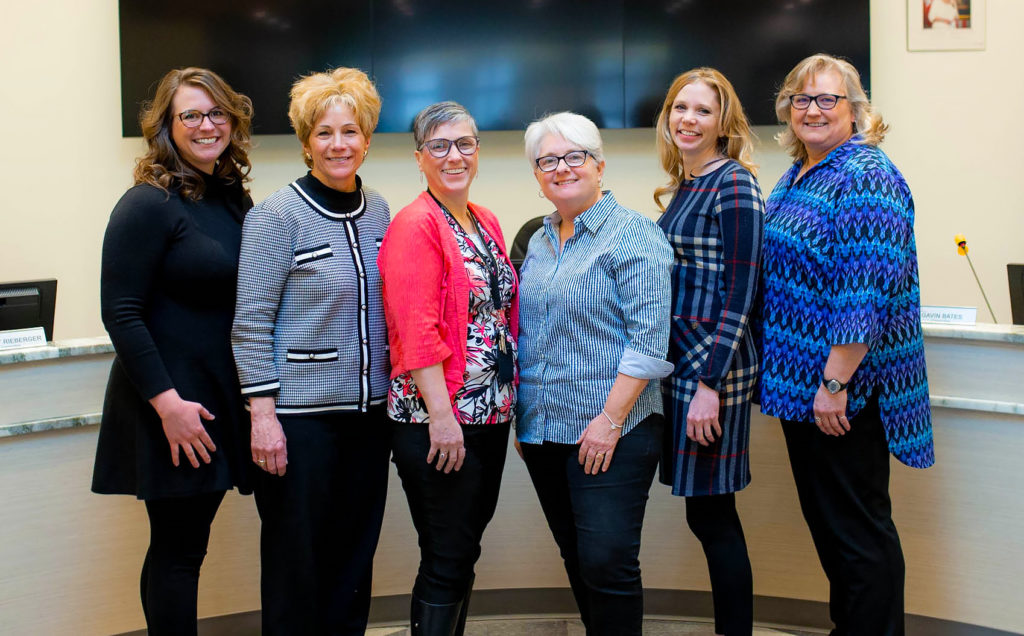 The testimonials submitted reflect the belief that this team has made remarkable progress in advancing the community support for those living in Innisfail with dementia and their care partners during a brief period of time.
As one testimonial stated: "Considering that just three years ago, we had little to no local programming for individuals living with dementia, the strides that have been made in this area have been significant. Our community is now better able to support these residents with health care and programming … as well as knowledgeable front-line staff who support our residents to remain in their homes and age in place safely."
Another community member spoke of the passion and commitment of the team, and how "countless community members have benefited from their efforts."
"Often these women work on their own time and resources to ensure the success of the initiative. They are leaders, experts, and role models in their field. What they have accomplished in the past year has been remarkable."
"Ellen, Jennifer, and Wendy are dedicated professionals who go above and beyond every day," stated another community member. "Their energy is limitless, their enthusiasm contagious, and their professionalism a model for others. They are innovative in their approach and demonstrate sincere compassion for residents in our community who use their services."
"It is clear from the letters that accompanied this nomination that the innovative programs developed by this team are valued by their clients," stated Bernard Anderson, RhPAP Executive Director. "The team's commitment and dedication is evidenced by the challenges you continue to overcome and the ever-expanding list of projects and programs you are offering to support those living with dementia."
"The impact of your work will be felt for many years to come."
---
Wabasca/Desmarais Healthcare Centre Nursing Team
The Wabasca/Desmarais Healthcare Centre Nursing Team was selected as a 2021 Health-care Heroes Award recipient based on the innovative simulation program they established to address local challenges and the way they have willingly shared this program and their learnings so others can benefit from their experience.
The letters of support that accompanied the team's nomination suggest that their "incredible" team's "quiet dedication," enthusiasm, determined advocacy, "'can-do' attitude," willingness to stay long hours after work, and commitment to overcoming hurdles and improving the experience of their patients has resulted in enhanced care in Wabasca.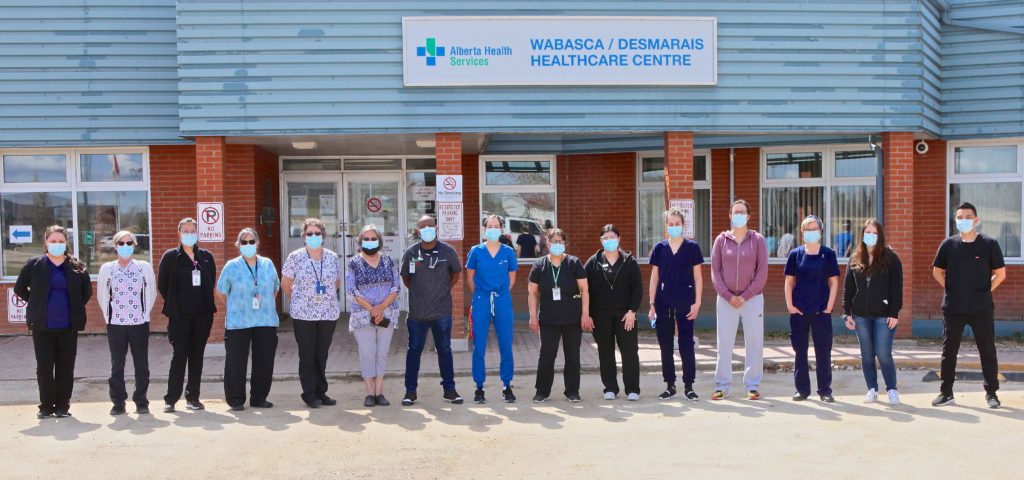 One testimonial stated that the Wabasca nurses "relentlessly advocate for their patients by keeping a pulse on the community… It is also immediately apparent that the community trusts the[se] nurses. Patients often call the hospital to seek advice from specific nurses."
"The Wabasca Nursing Team is an outstanding example of positive change and commitment to rural health care," stated another letter in support. "Their collective dedication to their patients and community has resulted in nurse recruitment and retention, development of a sustained simulation program, and innovation in virtual simulation science that has national implications for rural medical education. The team has accomplished all this while serving one of the highest need areas of the province."
The nursing team undertook innovative measures to tackle high patient need and the challenges presented by the community's remoteness, and then managed to engage stakeholders and the entire community to successfully implement and sustain that plan. They also piloted virtual simulations for COVID-19 airway management that had implications for Alberta's COVID-19 rural preparedness and rural health-care team training.
"The Wabasca Nursing Team is trusted and valued for the clear dedication they show for their patients and their consistent willingness 'go that extra mile' for them," says Bernard Anderson, RhPAP Executive Director. "The team has improved the quality of care for patients not just within their own community, but across Canada. They serve as a model for all of Alberta."
---