It's every community's dream to have easy access to primary health care close to home.
So when Dr. Muti Kauchali approached the Town of Blackfalds with an idea to set up a local medical centre, community and business representatives were intrigued.
Blackfalds, a community of nearly 10,000 residents north of Red Deer, was in need of more physicians and other health professionals to provide health care to the growing population—and Dr. Kauchali was up for the task.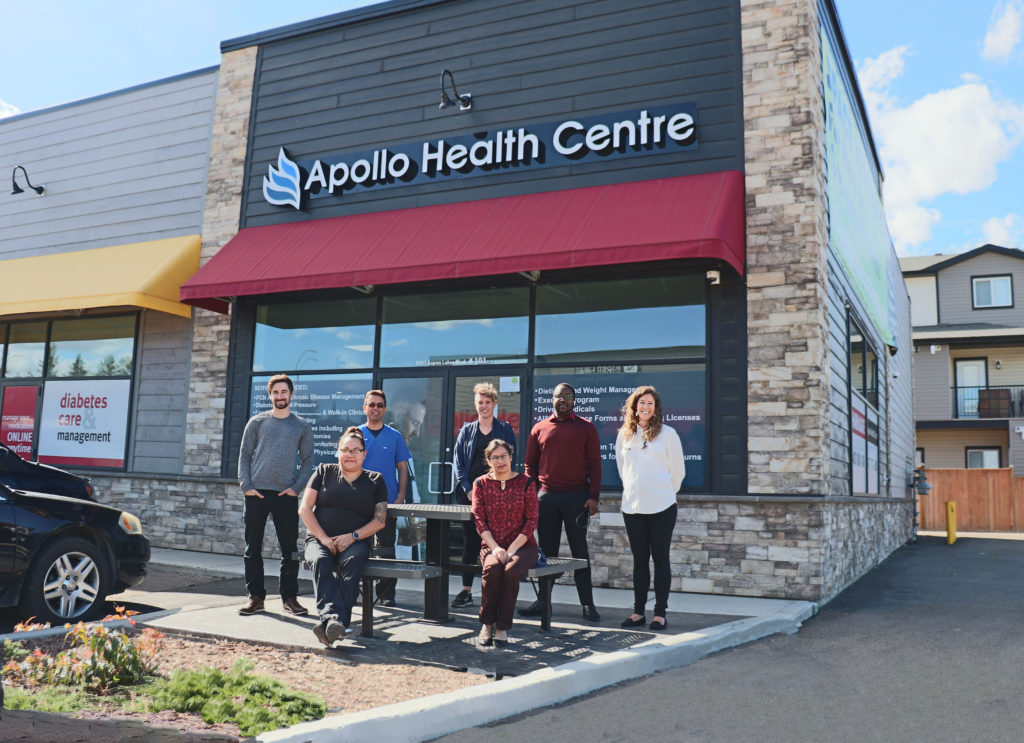 "The services we provide [in Blackfalds] will be from cradle to grave, under one roof," said Dr. Kauchali.
In 2019, the physician successfully opened a new clinic about 60 km east in the village of Delburne, and the family physician believed a medical centre would be well-received by Blackfalds residents.
The state-of-the-art Delburne Medical Centre opened in the community of 900 residents two years ago, featuring sound-proof rooms with 12-foot ceilings, a large procedure room, and a full-service pharmacy.
The Blackfalds Health Practitioners Attraction and Retention Committee (BHPARC) was subsequently set up to work with Dr. Kauchali, and it wasn't long before the goal of a clinic came to fruition.
The Apollo Health Centre opened in Blackfalds in September 2021.
Dr. Kauchali followed a model much like the Delburne clinic, while keeping in mind the needs of the residents, from young families to seniors, who call Blackfalds home.
The Apollo Health Centre is set up for family physicians and other health professionals to offer primary care for patients. The hope is that the centre will house as many medical services as possible in one location, Dr. Kauchali said.
The service model reflected by the centre is the "patient's medical home," a name coined by the College of Family Physicians of Canada. This design proposes local health-care sites where area residents can have many of their personal and family health concerns addressed close to home, rather than having to seek medical advice or services outside of their community.
State-of-the-art equipment is now installed allowing for a greater variety of care to be offered in the community.
"We no longer have to send people away for basic … procedures," said Christopher Johnson, who is the economic development officer with the Town of Blackfalds.
Offering local medical care was the driving force behind the clinic, but Johnson expects that other health-related services such as radiology and naturopathic and mental health services will follow the clinic to town.
Sue Bornn, the vice-chairperson for the BHPARC, agrees that the clinic will draw other business and health professionals to the community.
"In central Alberta, we have real strength in our regional community. Everything is quite close," says Bornn. Health professionals who live in nearby communities such as Red Deer, Sylvan Lake, and Lacombe can easily commute to Blackfalds to share their expertise at the clinic.
Since its inception in 2020, the BHPARC has already built a strong network of stakeholders including Alberta Health Services' (AHS) recruitment team and the Wolf Creek Primary Care Network, and has community volunteers and business representatives collaborating with RhPAP and accessing the organization's resources.
"We no longer have to send people away for basic … procedures."
-Christopher Johnson, economic development officer with the Town of Blackfalds
Dr. Kauchali and the committee also plan to incorporate more integrated therapies into the clinic with physiotherapists, occupational therapists, and podiatrists.
An exercise group called "Go Get Fit" has already been set up to work with health professionals so they can promote and support healthy living among patients.
Dr. Kauchali and four other physicians practise at the Blackfalds' clinic ensuring that patients can access a doctor five days a week.
While the Blackfalds clinic continues to expand, it's expected the town will see other benefits—just like what's happening in Delburne.
The Delburne clinic has helped boost the community's population by about 60 people in the past two years, said Karen Fegan, chief executive officer with the Village of Delburne.
According to Fegan, young families, retirees, and golfers looking to live near the 9-hole golf club—dubbed a "must-play" course in central Alberta—are relocating to Delburne. Rural residents are also coming into town more often to visit the medical centre and conduct other business in town.
"It's the first time Delburne has had a doctor in 90 years," added Dr. Kauchali.
He continues to be passionate about meeting the health-care needs of smaller communities.
"These will be clinics that will be running forever. [They are] something I've always wanted to do for people."
— Billi J. Miller with files from RhPAP Communications