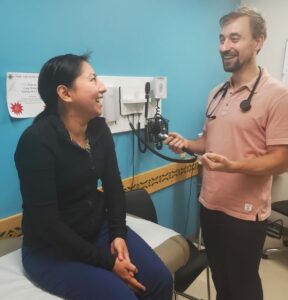 Dr. Kirk Reid didn't always have his sights set on becoming a physician, but he knew his future would involve helping people and most likely in a rural setting.
Dr. Reid's parents had instilled those values early in his life. He grew up in St. Paul and at a young age spent time visiting family friends on the nearby Saddle Lake Cree Nation and Whitefish Lake First Nation (also known as Good Fish Lake) about two hours northeast of Edmonton.
That's why, after he graduated from the University of Alberta, he decided to set up his medical practice in Saddle Lake and applied for financial assistance from RhPAP's Rural Education Supplement and Integrated Doctor Experience (RESIDE) Program.
RESIDE is designed to address challenges in patient access to health services in rural and remote areas of the province by supporting new-in-practice physicians to explore living and working in rural Alberta.
"[RESIDE] seemed like a good incentive to help out with the transition of coming back from the city and to help settle down here and make ourselves more comfortable and adjust to the lifestyle," said Dr. Reid, who moved back to the area with his wife, Nichole, and now 15-month-old daughter, Audrey.
"[It] helped [us] to get established a little bit more and move that along because the first year is stressful … adjusting to work. Any help to make the home life better and ease the debt burden is much appreciated."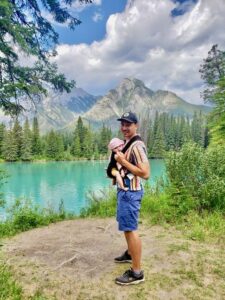 Part of creating a comfortable family home involved renovations on his house at a lakeside community north of St. Paul. Renovating was something he was well acquainted with after working in his family's renovation business growing up. The skills he learned in the business were surprisingly helpful as he became a physician.
"I did pretty much everything that we needed to do … sales, deliveries, general labour, running the forklift, or what not. There's a lot more transferability than you would have [thought]," Dr. Reid explained.
"Being in the different areas of business and science has been helpful to any [medical] treatment plan. With a patient you need to get buy in and that is a little bit of salesmanship as well. You need to have that ability to speak and have those soft skills as well."
The first year has been challenging starting a new practice, but Dr. Reid said he's proud to know he's making a difference in the clinic that serves about 10,000 people on the reserve and surrounding area.
"I really like the patient population [at Saddle Lake] … I find that it is super satisfying work in that you often times get pretty immediate feedback … that you're helping people. That's really nice, because I feel as doctors [we] want to go out and feel like we're making a difference and I feel like that has been true for me," he said.
"I've seen a lot of change in people throughout the year. Don't get me wrong, there's a lot of tough cases, refractory stuff that … you're not sure if you're gonna make a difference, but there's been a lot of satisfying outcomes."
Dr. Reid also keeps his acute care skills up to date by working part time in the emergency room at the Bonnyville Healthcare Centre.
Dr. Reid spent the last four months of his medical training in the Bonnyville ER. He hadn't worked at Saddle Lake previously, but he was familiar with the area after volunteering at the recreation centre prior to medical school and through sports participation when he was young.
He was already considering setting up a practice in Saddle Lake when he first learned of the RESIDE program.
"I'm very grateful that RESIDE was around and it really helped us out in terms of adjusting, because I feel like even though I say that the first year was hard, I'm pretty good at minimizing stuff," he explained.
"Looking back, I was quite anxious and stressed out so it was very helpful to have that extra carefree incentive [to help us] relax and take care of things."
— Lorena Franchuk