A new program will help resident physicians to start their medical practice while bringing additional support to rural Alberta communities in need.
For the next three years, the Rural Education Supplement and Integrated Doctor Experience (RESIDE) program—a partnership between Alberta Health, Alberta Health Services, and RhPAP—will provide funding and incentives for up to 20 new resident physicians to practise in several rural Alberta communities.
"The ultimate goal of the RESIDE program is to attract physicians to rural communities in Alberta," -Emeka Ekwosimba, program director of RESIDE.
"A lot of underserved and rural communities have issues with access to health care, so with this program we aim to attract new-to-practice physicians to help address this."
Inspired by similar return of service programs across Canada, RESIDE stands out as a collaboration between partners that have experience with attraction and retention in rural health care.
"We're lucky to have RhPAP's years of experience promoting rural health and getting health-care professionals to practice in rural areas," Ekwosimba added.
With a variety of programs and initiatives that start in high school, RhPAP uses a combination of interactive learning, mentorship opportunities, supportive programming, and funding to create an "educational pipeline" to rural health care.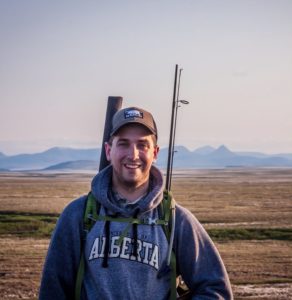 "In some ways [RESIDE] is the final piece of the puzzle in the students' journey," said Holly Handfield, manager of rural community development and engagement with RhPAP.
"It's important to offer programs at every stage because if you plant that seed early and keep nurturing it all along, they're likely to end up in rural areas."
Dr. David Edgeworth knows this firsthand.
"I'm not sure I would have been so committed to the idea of rural family medicine if it wasn't for RhPAP and all of the rural experiences I had throughout med school," said the first-year rural family medicine resident at the University of Calgary.
Dr. Edgeworth was first involved with RhPAP through a Let's Go Rural! skills event that took him to Fort McMurray during his first year of medical school. Impressed by the program, he took part in another during his second year, and then continued connections with RhPAP by sharing his experiences with high school students, as well as accessing funding and accommodations offered through RhPAP.
"I definitely had no idea what the scope of practice or day-to-day life of a rural family doctor was like until I began to work alongside those physicians through RhPAP-sponsored programs. That was when I really fell in love with the idea of rural medicine as a career.
"I can't see myself doing anything else now."
With a desire to stir this passion in every rural health-care professional, and an understanding that everyone's path to becoming a doctor is different, RhPAP works hard to ensure it creates as many opportunities to support up-and-coming doctors (locums), as well as continued professional development for physicians and other health professionals.
"I don't think people realize all of the arms RhPAP has," said Handfield. "We're all working together to do the best for students and provide these opportunities.
"I think what we're doing, as a collective, is empowering."
To learn more about RhPAP, including all the programs it offers and how to get involved, visit www.rhpap.ca, phone (780) 423-9911, or email info@rhpap.ca.
To learn more about the new RESIDE program, including eligibility, communities involved, and how to apply, visit www.rhpap.ca/programs-services/reside, or email RESIDE@rhpap.ca. Applications for year one are currently open with a deadline of March 31, 2022.