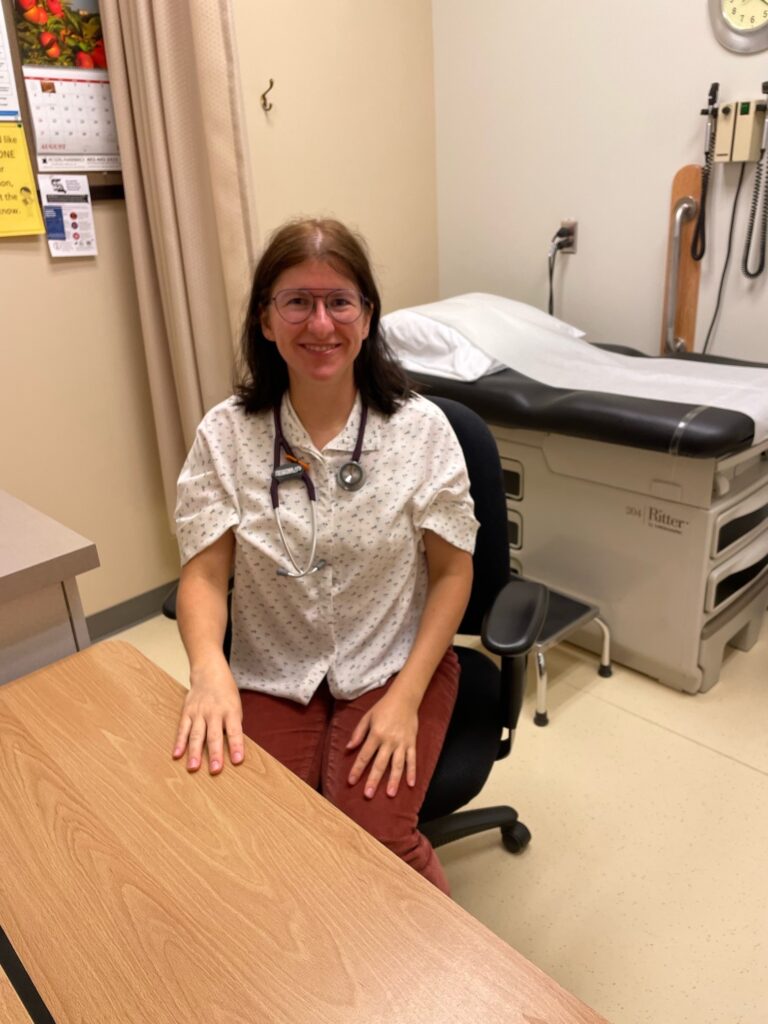 Finding your true calling is often a winding journey.
For Dr. Olga Efimova, that path detoured through an economics graduate degree before she realized that her heart lay in helping people.
"Someone gave me the idea to apply for medical school and I did. I never looked back. I love medicine so much."
The University of Calgary family medicine graduate started working in Three Hills, Alberta as a locum physician in 2020.
Little did she know that this temporary role would evolve into a permanent position in the rural community northeast of Calgary, Alberta earlier this year. This shift gave her an opportunity to participate in the RhPAP-sponsored Rural Education Supplement and Integrated Doctor Experience (RESIDE) Program, which supports new physicians establishing clinics in rural and remote areas of the province.
"I really appreciate this program because it makes me feel valued," said Dr. Efimova, who was born in Russia and emigrated to Canada when she was 16 years old.
"It makes me feel more positive about working in a small town … and makes me feel more confident in my future working here."
Dr. Efimova didn't originally consider rural practice as her pet parrot, Lucy, required a stable environment and didn't travel well. However, she was able to do some long-term rural locums (covering physician shifts) after residency.
Her exposure to rural medicine worked out well as Dr. Efimova ended up enjoying her work in Three Hills, Alberta, and was offered a chance to practice full-time alongside eight other physicians and a nurse practitioner.
"I love the variety of rural medicine and being able to solve more problems myself," the family physician said, noting she works at both the Kneehill Medical Clinic and Three Hills Health Centre's acute care and emergency department.
Dr. Efimova believes RESIDE's rural focus is a good way to tap into medical graduates who are starting their careers and haven't yet set down roots.
 I love the variety of rural medicine and being able to solve more problems myself.
– Dr. Olga Efimova, Three Hills family physician
"They have an open mind. All of the skills they learn as residents are still fresh in their mind including emergency and acute care skills," she explained.
Along with financial incentives, the program aims to integrate participants into the community and provide educational support for ongoing training, Dr. Efimova emphasized.
She encourages fellow medical professionals to explore rural practice, especially through locums and other support programs.
"It's a very big commitment to make if you haven't tried rural. I didn't expect to enjoy living in a small place this much.
"I'm not sure I would have even been able to commit to something like this if I hadn't tried locuming first."
Dr. Efimova has grown to cherish the tranquil nights and intriguing wildlife in the community. Lucy loves it too, and is content to keep a close eye on what's going on in the community.
"She doesn't get to go outside much because she's a flight risk … but she likes watching the other birds around."
This small-town setting has allowed her to stay close to her beloved parrot.
"I'm glad that I can come home to give her cuddles every evening."