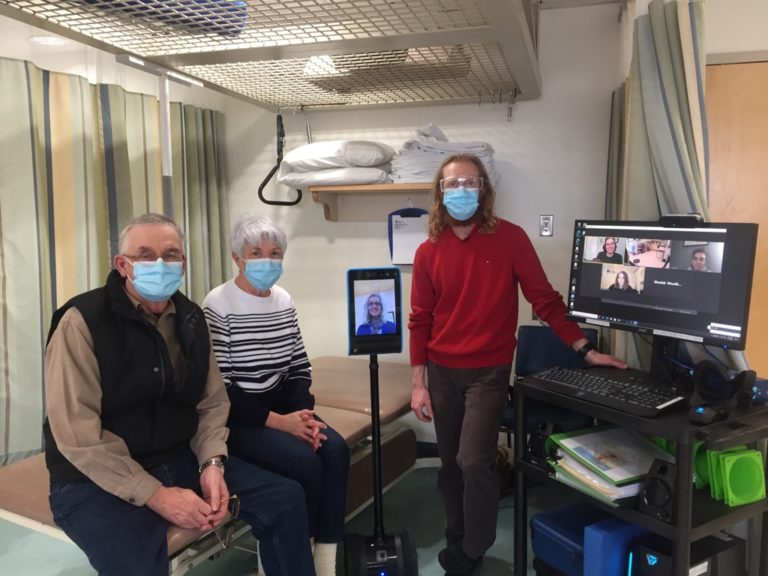 A Rural Health Professions Action Plan (RhPAP)-supported research project in the Crowsnest Pass municipality in Southern Alberta has been making significant strides in bringing advanced health care closer to rural Alberta communities.
Thanks to a $15,000 grant from RhPAP, the Blairmore, Alberta-based Crowsnest Pass Health Centre integrated Tele-Rehabilitation 2.0 into its services three years ago, offering patients and local clinicians access to health-care professionals in urban centres via cutting-edge telecommunication technology.
This innovative approach utilizes robots, motion capture, diagnostic infrared goggles, and video recording for remote consultations. Tele-Rehab has not only improved the quality of care but also minimized the need for rural Albertans to travel long distances for vestibular care (vertigo), severe shoulder pain and instability, custom wheelchair seating, and hip and knee surgery follow-up appointments.
It is now poised to expand its scope to cover orthopedic pre-surgery assessments as part of Alberta Health's broader telehealth initiatives across the province, said Dr. Martin Ferguson-Pell, a professor at the University of Alberta (U of A) Faculty of Rehabilitation Medicine, who helped develop the technology.
"They were the early adopters so it's placing the Crowsnest Pass in a leadership role in terms of the rural sites that are now going to be taking this forward."
Ferguson-Pell sees this next step as a win for rural Alberta.
"We're really bringing along the interests of the rural patient side by side with the way it's been planned out for all patients. We feel that all too often, what happens is that the solutions we come up with for rural patients are an afterthought," said Ferguson-Pell.
"In this case, the needs and priorities of rural patients are on the table right from the beginning."
This groundbreaking approach has been life-changing over the past few years for Crowsnest Pass residents, some of whom were previously nearly bedridden due to their medical conditions.
"They are so appreciative that they were able to get this access and even be … told that what was going on with them was a real thing and that we could fix it," said Emily Armstrong, project coordinator with the U of A program.
 It goes back to the fact that the Crowsnest Pass was willing to take part in our initial telehealth pilot. We had the support from RhPAP to get the equipment in place, and the support of the clinicians to continue with the program.
– Emily Armstrong, project coordinator
She expects a similar reaction as the pre-surgery assessments become available through telehealth technology. Patients will benefit from timely support and ensure that those who do not require surgery do not endure unnecessary delays in learning that information.
Ferguson-Pell said learnings from the Crowsnest project have also helped develop successful programs for seniors residing in supportive living facilities in Edson, Hinton, and Jasper, Alberta.
"We've seen massive improvements in mobility, quality of life, and even cognitive abilities," explained Armstrong.
"It kind of just gives people a little bit of a boost," added Ferguson-Pell. "A little bit of optimistic boost can really help their mental state."
It's also an example of how successful collaboration in Southern Alberta is creating other opportunities throughout the province, noted Armstrong.
"It goes back to the fact that the Crowsnest Pass was willing to take part in our initial telehealth pilot. We had the support from RhPAP to get the equipment in place, and the support of the clinicians to continue with the program."