In the heart of Spirit River, a dedicated family physician is rewriting the story of rural health care. 
Dr. Deanna Funk, driven by her own past experiences, is on a mission to bring seamless, efficient medical care to her rural patients. 
As someone who has personally encountered the frustration of delayed diagnoses and treatment, Dr. Funk understands the significance of timely health care.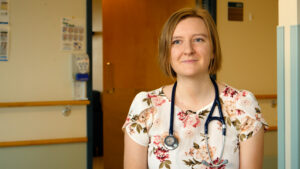 Reflecting on her teenage years, she vividly recalls the challenges she faced when a sport injury left her seeking medical assistance.
Without a consistent family physician, she found herself narrating her story multiple times to various doctors across drop-in clinics and emergency departments. The ordeal persisted for years until she was eventually referred to a specialist. This journey not only delayed her treatment but also hindered her active lifestyle. 
Personal experience drives passion
"I've lived the runaround," she reminisces. "I try to minimize that if I can, now that I'm in a role where I can do that for other people." 
These experiences have shaped Dr. Funk's approach to medicine. She firmly believes that understanding and empathy are vital tools in a doctor's toolkit. 
"All of our personal experiences … help us to relate to our patients. Anytime we can relate and truly empathize with them, I think we're better doctors."
If you talk to any doctor—especially generalist doctors—they will tell you that rural medicine is the best type of medicine and the most interesting…. We have the most breadth and diversity in presentations. — Dr. Deanna Funk
As a new face in the medical profession, Dr. Funk embarked on her journey as a family physician in Spirit River just over a year ago. This step aligned with the RhPAP-sponsored Rural Education Supplement and Integrated Doctor Experience (RESIDE) Program, designed to bolster new physicians in establishing clinics in remote areas.
Though practising in her hometown wasn't her initial plan, Dr. Funk's passion for rural medicine and her own rural roots made the decision clear. 
"If you would have asked me when I graduated high school, I probably would have said I would never come back," she chuckles. "That didn't really change until I realized how much I loved rural medicine and a lot of that was through [rural] electives and clerkships."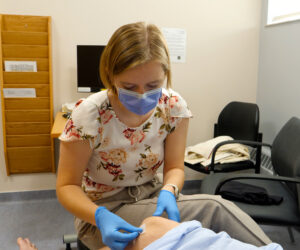 Her educational background, including experiences at the University of Alberta's Augustana Campus in Camrose, the University of Calgary, and medical learning opportunities in Peace River and Grande Prairie, further ignited her interest in rural health care. Throughout her medical journey, RhPAP provided her with essential support, including financial assistance and accommodations during rural rotations. 
Dr. Funk's commitment to rural practice led her to focus on family medicine, valuing the comprehensive approach it offered. 
"I'm obviously biased, but if you talk to any doctor—especially generalist doctors—they will tell you that rural medicine is the best type of medicine and the most interesting…. We have the most breadth and diversity in presentations." 
Within her practice, Dr. Funk has become a local specialist in areas she's passionate about, offering a unique blend of expertise. 
Rural medicine teems with diversity
"I really like doing women's health, in particular, like contraception…. If you like doing those things, then … other doctors around you learn that and send their patients to you." 
Collaborating with three other physicians, Dr. Funk contributes to the Central Peace Health Complex, where the clinic and emergency department operate around the clock. 
Transitioning from a resident to a practising physician comes with its challenges, and this is where the RESIDE Program steps in. Dr. Funk attests to the support it provides in easing the financial burden of relocation and setup. 
With a year under her belt as a physician, Dr. Funk is thrilled with her decision to embrace rural medicine. 
"It's the best job in the world because it's very rewarding when you get to help people…. Most people that come to us are sick or in pain … if we can ease that for them, that's a very rewarding thing to be able to do at your job." 
Dr. Deanna Funk's journey is more than just a personal tale—it's an inspiring example of a dedicated physician working tirelessly to bring efficient and empathetic health care to the rural communities that need it most.